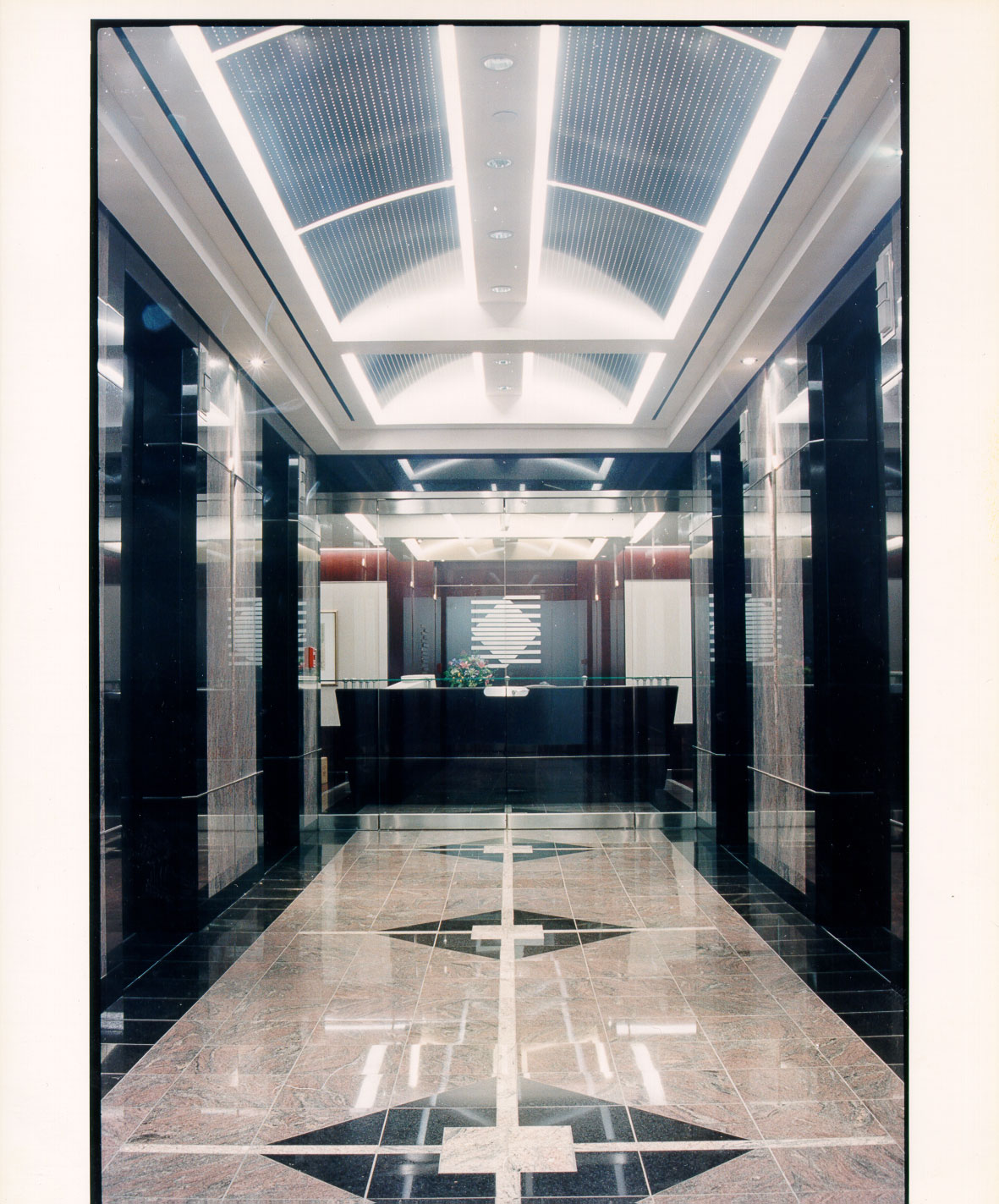 390 Bay|Munich Re Centre|Toronto
MUNICH RE CENTRE
LOBBIES & CONCOURSE
390 Bay Street, Toronto, Ontario
Project Completion: 2001
Project Size: 146 000 sq. ft.
390 Bay is a 33 storey office building in Toronto's financial district originally constructed in 1972. It currently houses offices and commercial space for Munich Re. Renovations were undertaken to provide upgrades and bring the building to a Class A level. These refurbishments included extensive renovations to the main ground floor lobby and concourse levels and involved the creation of a new building entrance aesthetic, modifications to the exterior, and interior alterations.
Melillo Architects not only designed the lobby and concourse structures but also the various fitments and fixtures, including custom lighting fixtures, the lobby desk, and signage. The lobbies and concourse were designed to be fully accessible and barrier free, and are equipped with features such as power doors, ramps, railings, and elevators. Our firm also designed custom fitments to hold access buttons and card readers.
In addition remedial work was done to the buildings life safety systems to meet current building and fire code requirements, as well as a complete elevator modernization. This project demonstrates our eye for powerful corporate interiors and office spaces, designed to meet clients visions and programming needs as well as accessibility requirements. All renovation work was performed while the building remained occupied and fully operational which showcases our ability to be flexible and adapt to clients functional needs.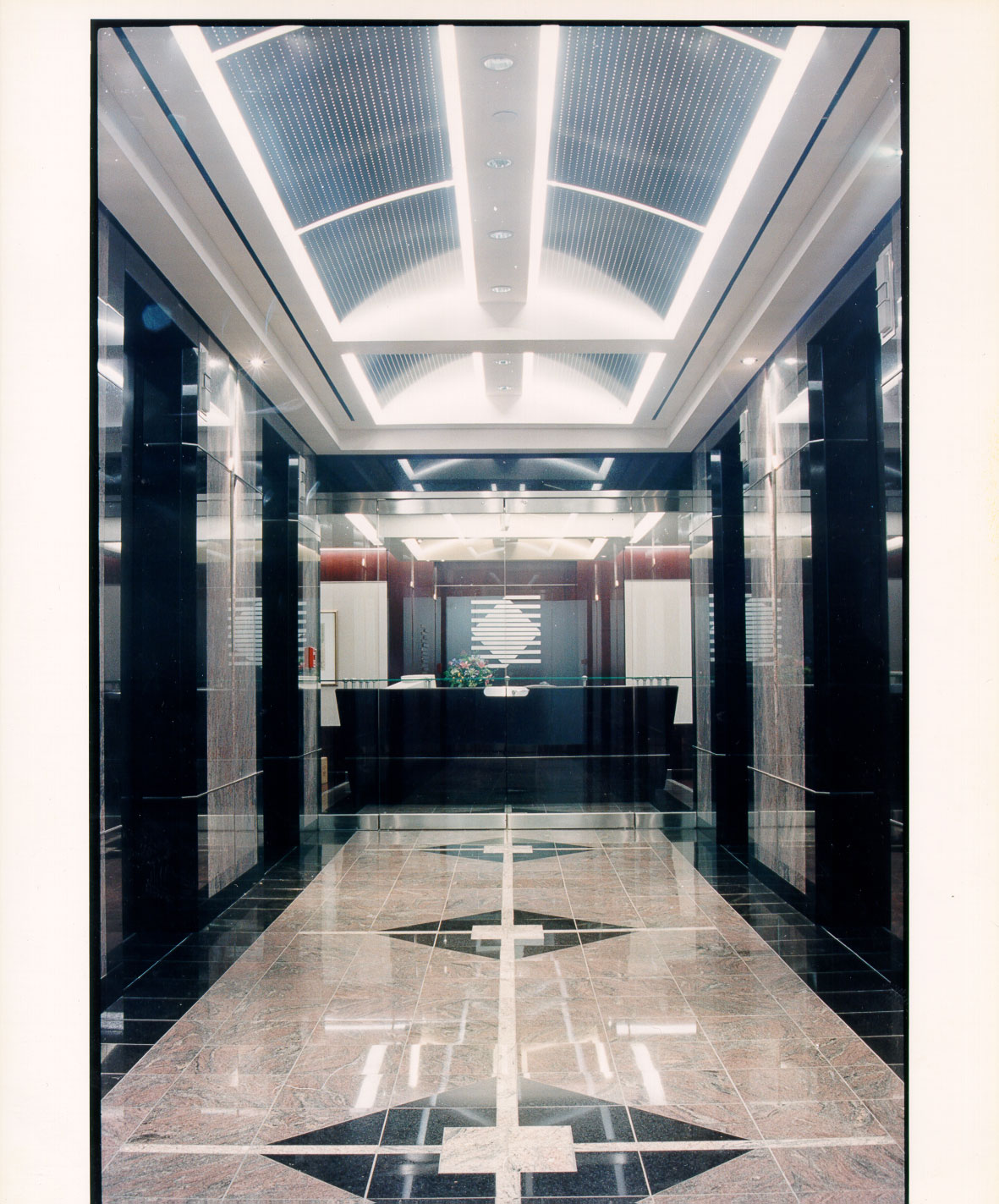 390 Bay|Munich Re Centre|Toronto
MUNICH RE CENTRE
21-23, 25-27 FLOORS
390 Bay Street, Toronto
Project Completion: 2001
Project Size: 46 000 sq. ft.
The scope of work included renovation to the interiors of six upper office floors. The floors were completely refitted for the building owners to high finish levels, including furniture, millwork, fixtures, electronic equipment, and communication cabling installations.
Elevator lobbies were renovated while keeping within the overall building design strategy. Elliptical stairs were constructed, interconnecting the 21st to 23rd floors. Office areas were partitioned using a designed system of wood and glazed panelling.
Research on different furniture systems was conducted to
accommodate the building layout and client needs. Lighting and fixture design were a significant component of this project and much of the furniture and light fixtures were custom designed.
Construction of a new state of the art computer room was undertaken. Two executive board rooms with audio/video conferencing and training facilities were provided. Painting and sculptures were chosen for presentation throughout the offices and custom furniture design for their display.
The construction was undertaken with a construction manager and was staged to maintain clients continued operation.
This project demonstrates our keen attention to detail with regards to corporate office interiors.
This renovation project also showcases our ability to design powerful interiors that fit seamlessly with the surrounding and existing building features.
No details were overlooked and every aspect of the office was
considered for its relationship to the surrounding environment.